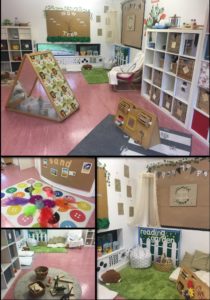 This room is designed especially for babies aged 0 – 2 years
All babies are encouraged to explore and become confident, independent thinkers through a range of messy play, sensory and age-appropriate activities. The Ladybird Room has its own independent garden and equipment.
The room has its own specialist baby change facility, a ventilated sleep pod and a milk kitchen providing the highest quality provision for your baby
Staff record all aspects of your child's day in the daily diary, showing you exactly what they have got up to during the day. We also ensure the routine you have set out is followed to ensure a smooth and seamless settling. We know it can be difficult leaving your baby for the first time, which is why we strive to provide a welcoming, safe and engaging atmosphere.
There is a maximum of 12 babies up to the age of 24 months in this room and a minimum adult:child ratio of 1:3 and there are always at least two members in the room at all times.
Ladybird Room Staff
Emily Neville, Room Leader Early Years practitioner, Level 3
Amy Harding   Early Years practitioner, Level 3
Natasha Cwietkow   Early Years practitioner, Level 3