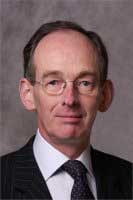 HOPE's Patron, Sir Andrew McFarlane, joined the charity in 2010. He is a strong advocate and supporter of the work we do and the charity is very proud to have his support.
Sir Andrew McFarlane was promoted to the Court of Appeal in July 2011 in a meteoric career rise that began in the drama department of Durham University.  He was called to the Bar by the Gray's Inn in 1977 and took Silk in 1998. He was appointed a High Court Judge assigned to the Family Division in 2005 and was the Family Division Liaison Judge for the Midlands.
In April 2018, Her Majesty The Queen  approved the appointment of The Rt Hon Sir Andrew McFarlane as the President of the Family Division from 28 July 2018. This appointment follows the retirement of Sir James Munby on 27 July 2018.
During 2020, Sir Andrew gave his overview of recent events for the purposes of our Annual Accounts:
Over recent years HOPE has consolidated its position as a valued provider of much needed services for children and families in Bromyard and beyond. This has been achieved through good management, forward thinking and sensible use of resources. We have now been in uncharted waters since March 2020 and continue to lack certainty over the wider future. At such a time the importance of a sound and strong management structure and a Board of Trustees who have their eye firmly on the organisation cannot be over-stated. HOPE is fortunate in having both so that, whatever the twists and turns produced by the Covid crisis, the charity is able to adapt and to target its resources where they are most needed. The management team and the trustees will have worked very hard to keep the doors as open as possible and the funds flowing; this will not have been easy and the community owes them a heart-felt debt of thanks for what they are doing.
Sir Andrew has written extensively about children law, most notably with the late David Hershman QC, Hershman and McFarlane: Children Law and Practice, to which he continues to contribute. It is a definitive work which changed the way the law was explained and applied to individual cases.
In addition to his work in court, Sir Andrew is the Chancellor of the Diocese of Exeter, is a member of the Government's Family Justice Review Panel and is Patron of The Children's Legal Centre, a national Children's legal advice charity.