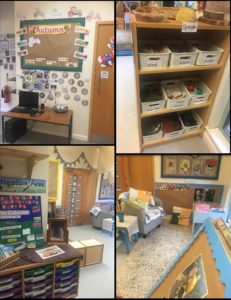 For children aged 3 – 4 years.
In our pre school room, children enjoy a day of activities that are planned and coordinated to maximise a child's opportunity to experience, experiment and explore. Part of our commitment to outstanding Early Years education is our high adult:child ratios. We ensure there is always one member of staff for every 8 children and there is always a minimum of two members of staff in the room at all times. There is a maximum of up to 24 children in this room.
The staff team is passionate about providing a rich environment where children feel safe, confident and ready to play, explore and learn. They ensure a wide range of activities are available every day, tailored to individual children's needs. A wide range of extra activities are also provided and include: music, dance, forest school activities, sensory room, specialist speech and language support, rising 4's school preparation groups and regular trips to local woodlands, parks and into the local community.
NEF Funding is available for all children aged 3 – 4 years. Read Funding & Fees for more information.
Preschool Room Staff
Kerry Barber Room Leader, Early Years Practitioner Level 3
Sharon Perry  Early Years Practitioner NVQ3
Carly Roper  Early Years Practitioner NVQ3